Workspaces
:
Kommigraphics new headquarters
The new offices of the visual communication agency Kommigraphics are being developed in an existing building in Marousi area. Kommigraphics clientele is spread throughout the world, with a varied portfolio that includes branding, web and e-commerce design and implementation, packaging design, as well as online and offline marketing services.
Interior perspective: designers' hub
The main intention of the architectural design was the creation of a discrete scene, a "serene canvas", which adopts the distinctive character of the agency, embraces their inspiration and foster experimentation. The white tones that overwhelm the space and the minimal design of the furniture and lighting consist a solid concept that can absorb the DNA of the agency.
Workspace features
After considering functional requirements, the program focused on creating an accessible network of spaces with different characteristics and a subtle hierarchy. The spacious room layout is divided into different zones. Glass walls and furniture that consist room dividers now structure the new offices, bringing ideas, work processes, and social interaction to life.
Company's floor plan
General spatial layout, model 1:50
The open space concept enables diverse ways of working to be integrated into one whole. The main highlight of the design is also the long wall at the backside of the office, which supports the creative approach and workflow with a completely writable, magnetic coat of paint.
Main workspace hubs, model 1:50
Reception, chill-out area, kitchen, awards display, the design and coding hubs, the workshop area, the directors' offices and the meeting room are strategically arranged in order to provide a mesmerizing experience not only for the team but also for the clients.
Furniture construction drawings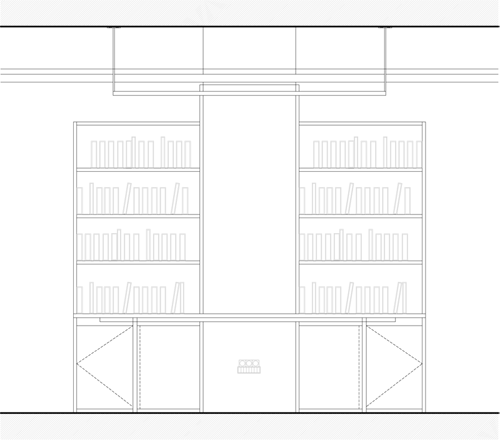 Construction phase